IMKK together with volunteers actively helps soldiers ATO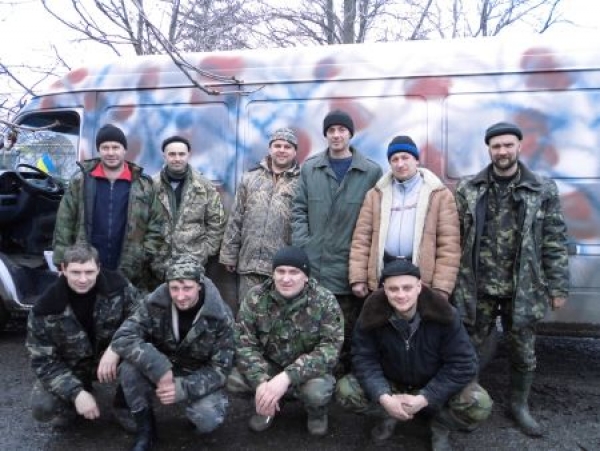 Now with volunteer cohort, which was formed in 2014, there were only true patriots who are at the call of the heart. Among these NGO "Entrepreneur Ichnyanschyny" and "Union of combatants ATO Ichnya District." From these military volunteers constantly keep communication as well know what they are missing out on the front and on the different lines of defense.
Recently, activists of the organizations referred back from another trip in the area ATO. As usual, taken compatriots serving in the East, about half tons of all kinds of useful things.- It is vegetables, home-canned, fat, tobacco, because the boys ask him instead of cigarettes, underwear, etc., - said the head of the "Union of combatants ATO Ichnya District" Sergei Petrauskas. - This time we really helped businessmen from the NGO "Entrepreneur Ichnyanschyny" communities of villages and Bilmachivka Olshana, Ichnyansky gymnasium named Vasylchenko (raised money for the winter tires by car, which help soldiers carry. - Ed.) And Bilmachivska school. Her students and teachers bought socks for the soldiers. Joined the charity case and LLC FC "Cinco-Ichnia", headed by Anatoly Brusenko.
Fortunately, Ichnyanschyni sensitive to human troubles many people. For example, the greatest number of times - 15 - drove right things in the area of ​​ATU local businessman, one of the co-founders of "Entrepreneur Ichnyanschyny" and volunteer Vyacheslav Babich. Volunteer Tatiana Doroshenko visited the East for 13 times. For the first time decided in June 2014, when in the ATO mobilized her husband.
Ichnyansky dairy-cannery only this year gave 4.5 thousand cans of condensed milk weighing more than 1.5 tons. This time the volunteers were taken from military IMKK wooden pallets that in the dugouts were dry. Even before construction helped polyethylene. Again for the installation of dugouts. Do not forget about the family business and the military. In particular, the direct financial support of the Supervisory Board of PJSC "Ichnyansky dairy-cannery" Valentine Zaporoschuka held various festivals and also with gifts for children and mobilized members of ATO and Ichnya area.Actively assist the military and other entrepreneurs. They are so many that remember all the good word is not possible.However, it is noteworthy that Ichnyansky volunteers - very modest people. About reluctant to tell military assistance, they say, in their place, each would do so. And this is the credo of true volunteers do good, but no man, nor tell. So low bow to you for work and citizenship.